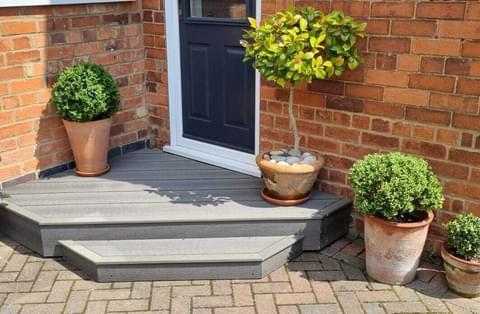 When properly maintained, decking can last for many years. We'd recommend giving it six months or so to weather an annual thorough clean before treating it with a reputable stain or paint. Throughout the year sweep your decking to ensure that it is free from organic matter that can decompose and damage the integrity of the wood.
Timber decking is especially useful for levelling out uneven areas of ground which means that it can be used to create a patio area to make the most of sunny spots that you otherwise wouldn't be able to access.

If you're looking for a little inspiration, our expert team can also offer a design service to help you achieve the right look for your outdoor space. Give us a call for more information, prices, further product information, or to discuss our quick and helpful delivery service.
Our timber decking is supplied in lengths from 3m to 6m. We carry softwood pressure treated decking in large quantities, including Sub-frame Sections. Sizing options include:

50mm x 50mm

75mm x 50mm

100mm x 50mm

150mm x 50mm
We supply hardwood decking in Greenheart, Red Balau and many more. We also stock support posts, handrails, newels, spindles, and stair strings. Get in touch with our expert team who will be happy to talk you through the options available.